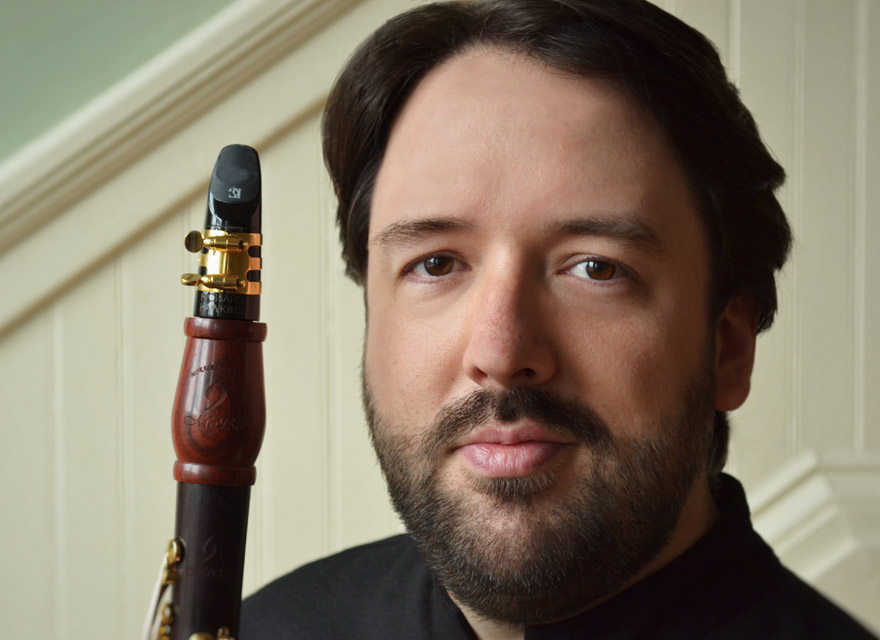 Musician-In-Residence
Established in 2000, our Musician-in-Residence program focuses on the creative artist. Each season a Musician(s)-in-Residence is invited to participate in a series of activities that include performances of various kinds, collaborations with other musicians, educational initiatives, and outreach activities. The chosen artist(s) works closely with Cecilia Concerts' Artistic Committee and is given the opportunity to explore new ideas and develop creative projects.
2017/18 Musician-In-Residence Program Supporters
2017/18 Musician-In-Residence
Dominic Desautels, Clarinet
Dominic Desautels has been the principal clarinetist at Symphony Nova Scotia in Canada since 2012. He has quickly earned acclaim and recognition since his debut as soloist at age 21 with the Toronto Symphony Orchestra.
Known for his singing approach to clarinet playing, Dominic is the winner of several competitions and awards in Canada, including Radio-Canada's Auditions Jeunes Artistes, and the concerto competitions of the Université de Montréal and Orchestre de la Francophonie.
More recently he won the 3rd prize at the 33rd edition of the International Stepping Stone competition, the only clarinetist to have been awarded a prize in the prestigious Canadian competition since 1978. His awards even cross over to jazz, being the Stingray Rising Star Award winner at the 2015 Halifax Jazz Festival with his sextet called The New Bridge.
Dominic is in increasing demand as a chamber musician and soloist in Canada and internationally with regular appearances on public radio and television. He was a featured soloist with various orchestras, including the Orquestra Filarmônica de Minas Gerais, Orchestre de l'Université de Montréal, Orchestre de la Francophonie, Sinfonia Lanaudière, Symphony Nova Scotia and Toronto Symphony Orchestra.
Dominic has studied primarily with Jean-François Normand, Robert Riseling, and Joaquin Valdepeñas; after studies at the Conservatoire de Montréal and the Glenn Gould School, he earned a Bachelors degree from the Université de Montréal in 2007. Upon graduation, he was hired as the principal clarinetist of the Orquestra Filarmônica de Minas Gerais in Brazil, a position he held until coming back to Canada in 2012. Dominic has served as acting principal clarinetist with ensembles such as the Toronto Symphony Orchestra and the Canadian Opera Company.
Beyond his duties as principal clarinetist with Symphony Nova Scotia and being a member of its board of directors, he is a faculty member at Dalhousie University and guest artist/faculty at Scotia Festival of Music. His premiere residency concert is Dominic Desautels & Friends on September 16. Desautels is the co-artistic director of the Montreal-based chamber ensemble The Parcival Project, which performs on November 25. Desautels closes out his residence with A Celebration of Spring on March 24, 2018. 
Dominic Desautels has recently been named a Backun Artist and plays MoBa clarinets made with cocobolo wood, crafted in Canada.
Past Musicians-In-Residence

2016-2017: Soprano: Suzie LeBlanc
2016-2016: Violinist Philippe Djokic and pianist Lynn Stodola
2014-2015: Oboist Suzanne Lemieux
2013-2014: Tenor Jason Davis and Mezzo Soprano Lucy Hayes Davis
2012-2013: Cellist Shimon Walt
2011-2012: Soprano Allison Angelo
2010-2011: Pianist/Composer/Conductor Dinuk Wijeratne
2009-2010: Violinist Marc Djokic
2008-2009: Composer/Musician/Broadcaster Peter Togni
2007-2008: Guitarist/Composer/Arranger Scott Macmillan
2006-2007: Pianist Walter Delahunt
2005-2006: Violinist Terence Tam
2004-2005: New Music Specialist/Pianist Simon Docking
2003-2004: Blue Engine String Quartet
2002-2003: Guitarist Sylvie Proulx
2001-2002: Soprano Janice Jackson
2000-2001: Pianist Peter Allen