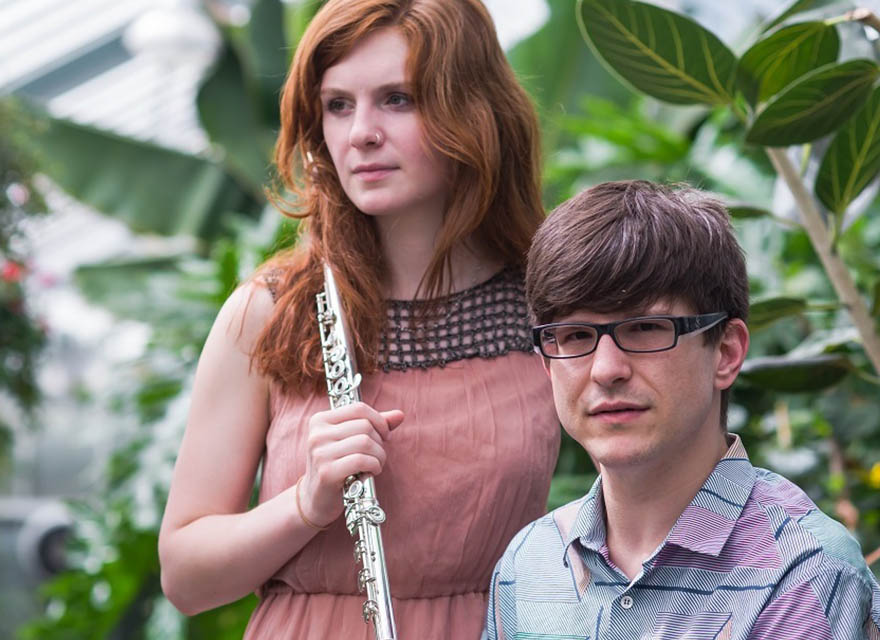 Ambassadors of a highly unique artistic approach to classical music, flutist Ariane Brisson and pianist Olivier Hébert-Bouchard formed Palladium Duo three years ago, and now the highly-accomplished team finds itself unlikely vanguards of Montréal's vibrant live music scene.
Brisson and Hébert-Bouchard have made a name for themselves reinventing the time-honoured combination of flute and piano through repertoire at times classic and controlled but also strikingly daring and contrasting. Covering more than 200 years of music, their Sunday, February 18th Halifax concert explores many unknown and familiar works by composers Bartók, Reinecke, Debussy, Roussel, and others. The concert takes place at 2pm at The Music Room, 6181 Lady Hammond Road in Halifax.
The winner of many national and international competitions including the Prix d'Europe, flutist Ariane Brisson studied at DePaul University in Chicago and the Université de Montréal. She regularly performs with les Violons du Roy and the Orchestre Symphonique de Montréal.
Pianist Olivier Hébert-Bouchard is a graduate of the Conservatoire de musique de Trois-Rivières and of the Manhattan School of Music. Olivier has won numerous national and international competitions, including the Julia Crane International Piano Competition, the Gian Battista Viotti International Piano Competition and the OSM Standard Life competition.
Palladium Duo released their first album "Burlesque" in 2016.
Concert Programme
Claude Debussy (1862-1918)
Syrinx
Prélude à « L'après-midi d'un faune » (arr. Gustave Samazeuilh)

Carl Reinecke (1824-1910)
Sonate pour flûte et piano, op. 167, « Ondine »
I Allegro
II.
II Intermezzo : Allegro vivace – Più lento, quasi andante
III.Andante tranquillo – Molto vivace

IV. Finale : Allegro molto agitato ed appassionato, quasi presto 

Béla Bartók (1881-1945)
Suite paysanne hongroise (arr. Paul Arma)

Claude Vivier (1948-1983)
Pièce pour flûte et piano

Albert Roussel (1869-1937)
Joueurs de flûte, quatre pièces pour flûte et piano, op.27
I. Pan

II. Tityre

III. Krishna

IV. Monsieur de la Péjaudie

Claude Debussy
Masques
L'isle joyeuse

André Jolivet (1905-1974)
Chant de Linos
Buy Tickets
Season Sponsors: Scotiabank, Premiere Suites Atlantic, Jules Chamberlain at Red Door Realty and The Craig Foundation