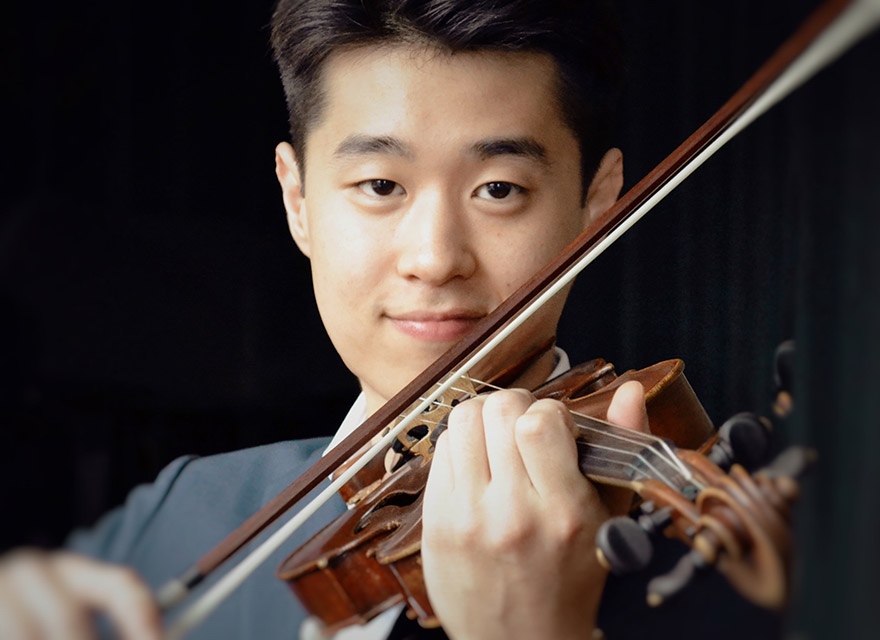 Violinist Heemin Choi began his studies with Halifax's Myonghae Yoon at the age of 6, completed his bachelor's degree at Dalhousie University's Fountain School of Performing Arts under Philippe Djokic, and currently is a masters student at Rice University's Shepherd School of Music in Texas, studying under Paul Kantor.
Choi has gone on to perform throughout North America, Europe and Asia sharing his love of music in various chamber music, orchestral and solo settings. He has performed a variety of works including the romantic compositions of Tchaikovsky, Wieniawski, Sibelius, Barber, and Brahms along with the works of Mozart, Haydn, Shostakovich, Prokofiev and Bartok as a soloist with orchestras in both Canada and the United States. Heemin was the Winner of the Canadian Young Artist Competition in 2012 and was the recipient of the Hnatyshyn Developing Artist Grant in 2011. Heemin also became the youngest award recipient of the Nova Scotia Talent Trust in its history in 2005, and was a winner in the National Music Festival in 2010 and 2011.
Heemin's enthusiasm and dedication for chamber music have allowed him to perform many concerts with prominent musicians throughout North America and Europe. Along with solo engagements, Heemin has served as guest concertmaster for orchestras throughout Canada, and has performed frequently with Symphony Nova Scotia, while also playing under the baton of such conductors as Esa Pekka-Salonen, Antonio Pappano, Charles Dutoit and Gianandea Noseda.
For his Halifax recital, Choi will perform Recitative and Scherzo by Fritz Kreisler, Sonata for Solo Violin by Sergei Prokofiev, "Andante" and "Allegro" by J. S. Bach, and Eugène Ysaÿe's Sonata No. 2. Choi's concert will be preceded with performances by young students from Halifax's Scotia Suzuki School of Music. They will perform Minuet by J. S. Bach and Chorus from Judas Maccabaeus by George Frideric Handel. Soloists will be Madoc Sullivan and Austin Webster Perks playing Concerto for two violins in D minor, 1st movement.
The concert takes place on Sunday, February 4th 7pm at the Lilian Piercey Concert Hall within the Maritime Conservatory of Performing Arts, 6199 Chebucto Road in Halifax. Tickets for the concert are available
online
 below ($30 Adult, $20 Senior, $15 Student, $10 Child), by phone at 902-423-0143, and at the door.
Concert Programme
Recitative and Scherzo by Fritz Kreisler (1875-1962)
Sonata for Solo Violin by Sergei Prokofiev (1891-1953)
"Andante" and "Allegro" by J. S. Bach (1685-1750)
Sonata No. 2 by Eugène Ysaÿe (1858-1931)
Buy Tickets
Season Sponsors: Scotiabank, Premiere Suites Atlantic, Jules Chamberlain at Red Door Realty and The Craig Foundation / Presenting Partner: The Scotia Suzuki School of Music