I think it's accurate to say we're past the midpoint of Archibald's year as the first "artist in residence" for the Canadian Opera Company. Last autumn she was Zdenka in Arabella. The Nightingale & Other Short… Read More

Ladom Ensemble
SATURDAY, MARCH 10 2018 – 7PM  |  samedi 10 mars 2018 – 19h
Michael Bridge, accordion; Adam Campbell, percussions; Pouya Hamidi, piano; Beth Silver, cello
Embodying inspirations from Argentinean jazz/classical tango, Serbian folk dance, and Persian classical dulcimer, Ladom Ensemble expresses an authentically Canadian fusion. 
Puisant son inspiration du tango classique ou jazz argentin, en passant par les danses populaires serbes ou le dulcimer persan, l'Ensemble Ladom incarne une fusion des genres toute canadienne.
BUY TICKETS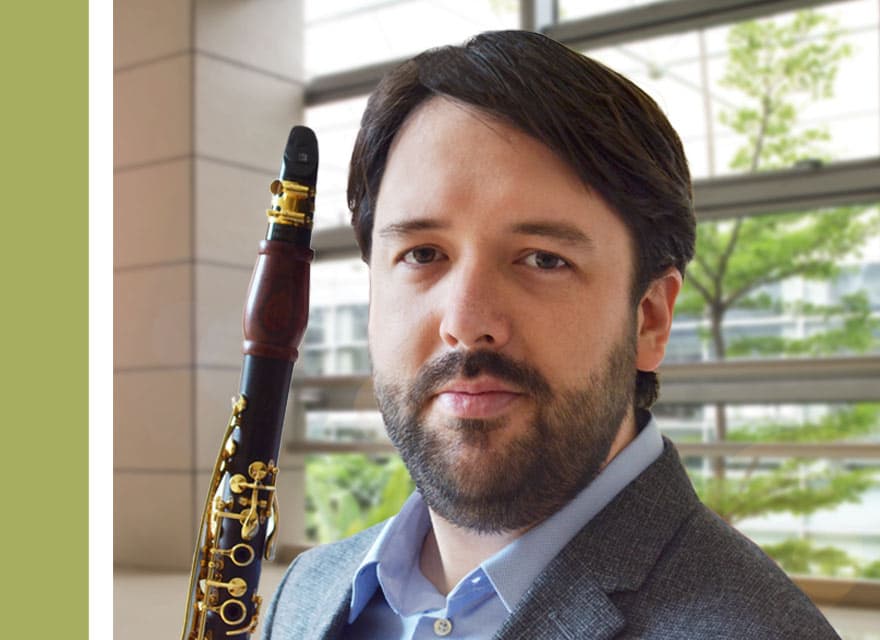 A Celebration of Spring – Dominic Desautels
SATURDAY, MARCH 24 2018 – 7PM  |  samedi 24 mars 2018 – 19h
Dominic Desautels, clarinet; Pascale Beaudin, soprano; and Walter Delahunt, piano
Our 2017/18 Musician-In-Residence clarinetist Dominic Desautels is joined by acclaimed Acadian soprano Pascale Beaudin and pianist Walter Delahunt for a celebration of spring featuring works by Schubert, Mozart and Schumann.
C'est aux côtés de la soprano acadienne Pascale Beaudin et du pianiste néo-écossais Walter Delahunt que Dominic Desautels célèbrera le printemps avec des œuvres de Schubert dont Le Pâtre sur le rocher, ainsi que des œuvres de Mozart et de Schumann.
BUY TICKETS
Inuk Soprano Deantha Edmunds
MARCH 2018 – DATE TBA
Artist's Talk with Inuk Soprano Deantha Edmunds
Deantha Edmunds, soprano
Deantha Edmunds shares stories of her background, the history of sacred classical music in Nunatsiavut, along with her influences and inspirations. This event takes place on the third floor within the First Nations Circle. FREE EVENT
SUNDAY, MARCH 25 – 2PM 2018 | dimanche 25 mars 2018 – 14h
Inuktitut Arias for All Seasons
Deantha Edmunds, soprano; Tara Scott, piano;  Jennifer Publicover, flute; and Reuben Bauer, trombone
Deantha Edmunds performs a solstice-inspired afternoon concert featuring works from her award-winning album Pillorikput Inuit: Inuktitut Arias for All Seasons. FREE EVENT
La soprano inuite Deantha Edmunds offrira deux concerts gratuits inspirés par les solstices et reprenant des morceaux de son album Pillorikput Inuit: Inuktitut Arias for All Seasons. 
MARCH 2018 – DATE TBA
Finding Herself: Harmonies for Her
Deantha Edmunds, soprano
Deantha Edmunds is proud to present a collection of original poems and songs with a lost and found theme. These works are meant to honour and bring about awareness to Missing and Murdered Indigenous Women and Girls. These works also include personal elements of embracing one's Indigenous identity. FREE EVENT
Red Piano – Amièle-Larivière Duo
SUNDAY, APRIL 8 2018 – 7PM  |  dimanche 8 avril 2018 – 19h
Jeanne Amièle, piano; Simon Larivière, piano
Come visit one of the world's richest musical eras, Tsarist Russia, where Tchaikovsky, Rachmaninoff and their peers created enduringly popular evocative masterpieces.
Véritable orchestre à 4 mains mettant en musique l'Histoire chevaleresque de la grande Russie des tsars, ce duo vous fera voyager à travers les œuvres infiniment évocatrices, entre autres, de Tchaïkovski et Rachmaninov, et les histoires éternelles du folklore russe.
BUY TICKETS
Jane Archibald
SPECIAL PRESENTATION  |  Présentation spéciale
SUNDAY, APRIL 29 2018 – 7PM  |  dimanche 29 avril 2018 – 19h
Jane Archibald, coloratura soprano; and Liz Upchurch, pianist
Renowned for her extraordinary technical abilities, the star of opera stages around the world performs a rare recital in Halifax with esteemed pianist Liz Upchurch.
Concert Patron: Shelia K. Piercey
Réputée pour son extraordinaire technique, et vedette sur de nombreuses scènes internationales, Jane Archibald offrira un récital unique à Halifax, accompagnée de la pianiste Liz Upchurch.
BUY TICKETS
Cheng² Duo
SPECIAL PRESENTATION  |  Présentation spéciale
SUNDAY, MAY 13 2018 – 4PM  |  dimanche 13 mai 2018 – 16h
Bryan Cheng, cello; Silvie Cheng, piano
Named one of CBC Music's 30 Hot Canadian Classical Musicians Under 30, this brother-and-sister duo have been making music together for years. Celebrated by audiences and critics alike for their artistic excellence, generous spirit, and compelling vibrancy, pianist Silvie Cheng and cellist Bryan Cheng perform in Halifax as a jumping-off point for their world tour showcasing music from their new album of Spanish music. In addition, they will perform a recently commissioned work with a special Maritimes connection.
Ce duo frère/sœur fait partie de la sélection 2017 de CBC des 30 musiciens classiques de moins de 30 ans les plus prometteurs. Très appréciés à la fois par le public et les critiques pour leur excellence, leur générosité et leur éclat, Silvie Cheng (piano) et Bryan Cheng (violoncelle) lanceront leur tournée internationale à Halifax où ils joueront des œuvres extraites de leur dernier album de musique espagnole. De plus, ils interpréteront une œuvre récemment commissionnée avec un lien tout particulier avec la région des Maritimes.
BUY TICKETS